Christmas Food
I hope you all had a wonderful Christmas! We had a great Christmas Day this year. My parents, my uncle, my husband's parents and my husband's sister's family all came around to our place for a big family lunch. There were 15 of us in total, mountains of food and lots of laughs.
Today, I just thought I would share with you a little peak at some of the food we enjoyed on the day. I also have lots of kawaii photos to share (my husband really spoilt me this year) but I will save those for another day.
Since we are in Australia, we enjoy Christmas in the middle of summer so our meals are generally cold meats and salads. This is what our selection looked like this year: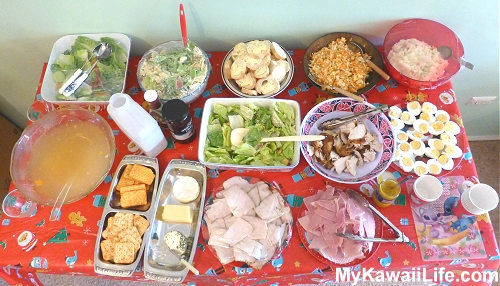 One thing that was very special to me this year was that everyone contributed to the meal and almost everything that could be home made was home made. From the picture above, my sister-in-law made the garden salad, Caesar salad and the punch; my niece made the pasta salad (the bowl at the back with the red spoon); my mother-in-law made the coleslaw (the brown bowl at the back) and I made the potato salad (the red bowl at the back).
Of course, I couldn't resist adding a touch of Japan to the meal. The potato salad was actually a Japanese potato salad recipe. I generally don't like potato salad as most places absolutely smother it in sauce. But, I had made this one before and really liked it, so I thought it would work well for Christmas.
The highlight though, of course, were the desserts: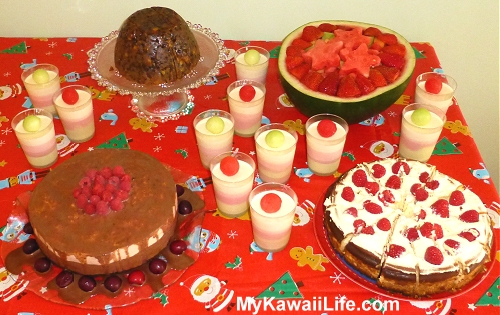 Again, these were all home made. My mother-in-law made the Christmas pudding. She makes it every year and it is definitely a family favourite. My niece made the cheesecake (bottom right corner). It was the second time she had brought a cheesecake to a family function and I think it is fast becoming a family favourite too. 🙂
The rest of the desserts were my own creations. I make the fruit salad every year and always use a hollowed-out watermelon for the bowl (that way I can take it anywhere and not have to worry about bringing a bowl home). This year, I topped it off with some watermelon stars made with cookie cutters.
I also made the little cups. They are actually mousse cups in Christmas colours. The green layer is made from honeydew melon, the pink layer is made from watermelon and white layer on top is made with lychees (yum!). I topped them off with a melon ball. I thought it looked a little like a Christmas ornament. 🙂
Finally, there is my raspberry and chocolate mousse cake (bottom left corner). I hadn't made it before so I was a little worried about it, but it turned out great. I did have a slight disaster with it that almost derailed the whole thing though. The spring on my springform cake pan came open while in the oven! Still, I managed to recover from it and I think I still pulled it off. It tasted delicious and my hubby loves it…so I can't ask for anything more. 🙂

I think that's enough food indulgence for today. I did make truffles too, but I'll leave them for another time too. Besides, looking at these pictures makes me hungry again! If you like our creations, please pin them to Pinterest. Thank you!
And finally, a special thank you to my family for making Christmas 2013 so special! *hugs*