Kawaii Mini Album
Today, I want to share something a little different with you – a cute kawaii mini album that I made for my friend, Carla, for her birthday. I have been dying to write this post for weeks now, but I didn't want to post pictures until she had actually received her gift. I didn't want to ruin the surprise! 🙂
To create this mini album, I used plain white cardstock for the cover and purple cardstock to make the pages. I decorated them all with images cut out from kawaii memos and then tied everything together with purple ribbon. It took awhile to finish everything, but I had a lot of fun!
I decorated the outside with some cute little kawaii critters and kawaii desserts. I even added some Milk Choco deco tape along the bottom: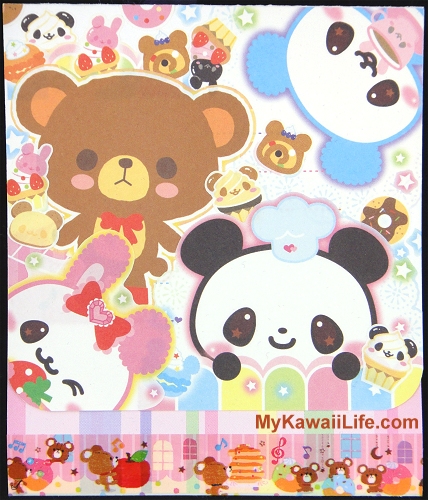 The album itself is not very thick as it only has eight pages. However, I added some dashes and hearts to the spine. Actually, this is a line cut from a kawaii memo sheet. 🙂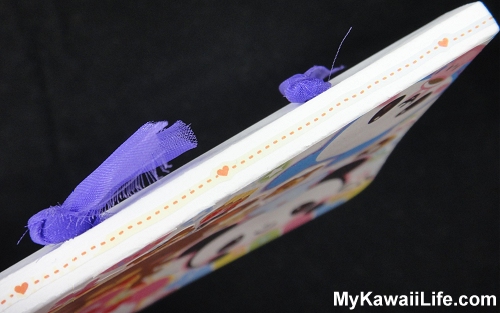 To open the mini album, you lift the top flap. As you can see, there are some cute creatures to greet you when you do. I've also added a personalised message to the inside front cover.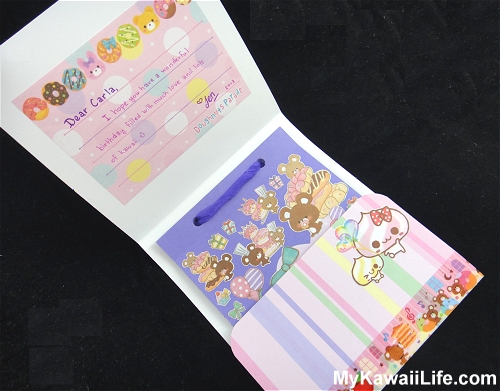 Next, you open the bottom flap and the pages are revealed.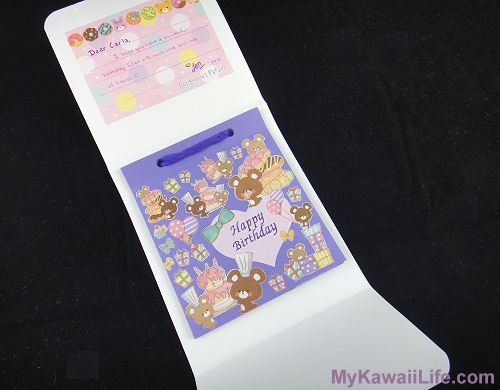 The first page of this kawaii mini album is a simple 'Happy Birthday' message. I used a range of Party of Bears memos to create this page. I thought the images were particularly appropriate for a birthday page.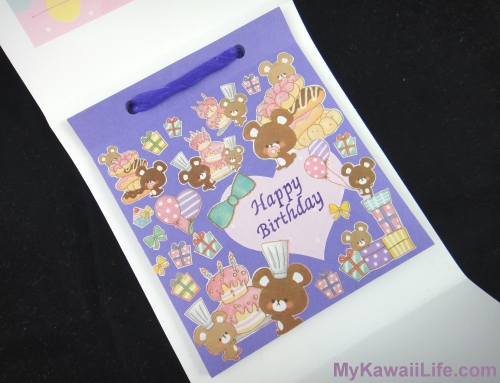 The rest of the pages feature various friendship quotes I found by digging around the internet.
Page 2 follows a star theme. The quote reads 'Good friends are like stars. You don't always see them, but you always know they are there'. It was the perfect quote to partner with the Sentimental Circus moon and star range.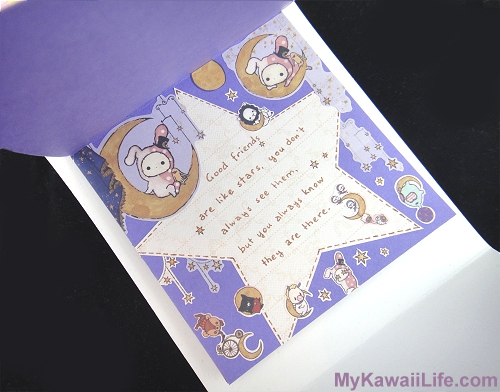 The third page has a coffee theme. The quote reads 'Good coffee is like friendship – rich, warm & strong'. The images come from a Fortissimo kawaii memo called Café Time Lapin.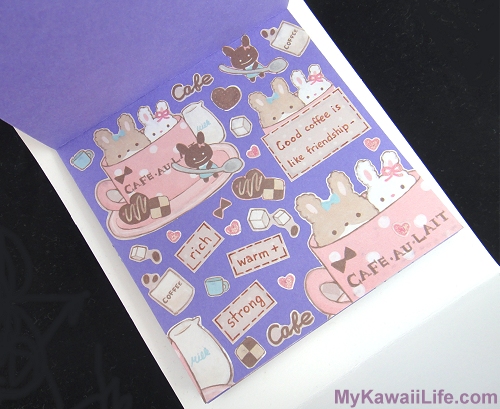 The next page features San'X's Chou-Fleur. Carla loves Chou-Fleur, so I had to feature her somewhere. 🙂 The quote reads 'If friends were flowers, I'd pick you'.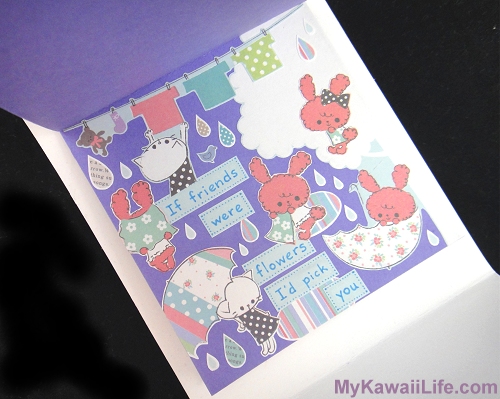 The fifth page is one of my favourites (although, it's hard to choose a favourite). I used a mixture of memos to create this one – some from Bear Is Looking, some from Baby Tail and some from a Crux memo called 'I Like You'. The quote reads 'Side by side or miles apart, good friends are always close to the heart'. As you can see, I replaced the word 'heart' with an actual heart.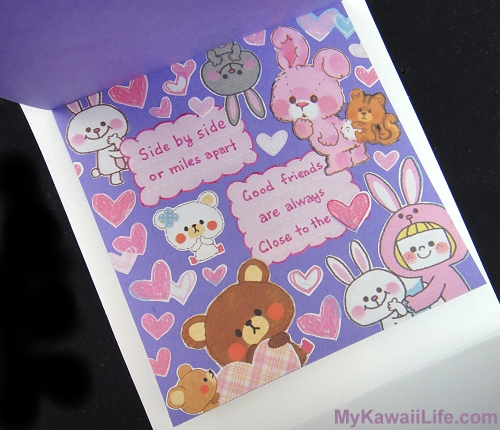 Page 6 features San'X's adorable little panda, Chocopa, and, of course, lots of chocolate. The quote reads 'Good friends are like chocolates – it's what's inside that makes them special'.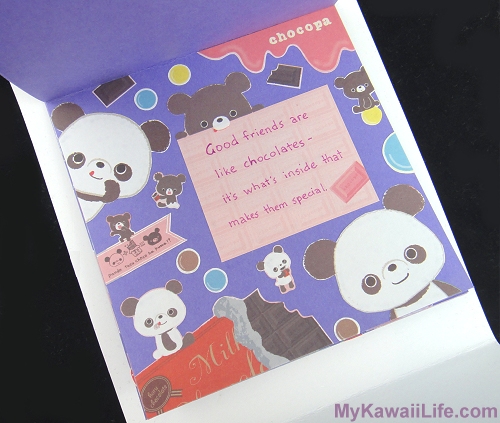 The next page follows a kawaii macaroon theme and features the cute little bears from Crux's Happiness Town. The quote reads 'Sweet is the thought of distant friends'.
You might notice that a lot of the quotes refer to distant friendships. I should explain – Carla and I have never actually met. We live on different continents. However, we keep in touch regularly and I truly value her friendship. Hence, the 'distant friendship' quotes. 🙂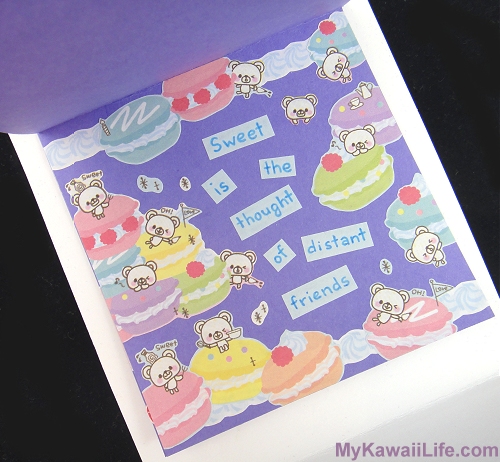 The eighth and final page of this kawaii mini album features another character from San-X called Berry Puppy and lots of strawberries. The quote reads 'One who finds a friend, finds a treasure'.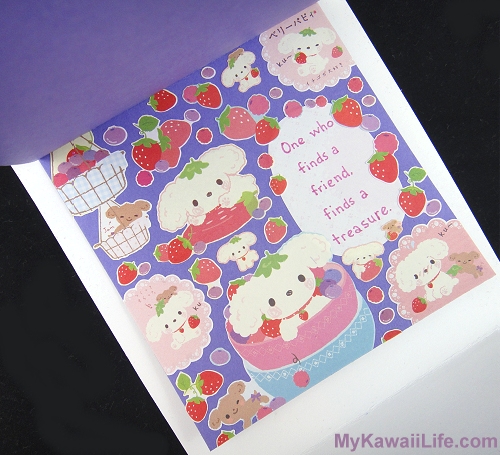 I hope you have enjoyed looking through my kawaii mini album. It was a lot of fun to make and I'm glad I was able to share it with you. Do you have a favourite page? If you do, I'd love to know which one. Please tell me in the comments below.
Also, if you like my kawaii creations, please pin them to Pinterest. I'd really appreciate it. 🙂