Kawaii Christmas Gifts
As promised, today I thought I would share some photos of the mountains of kawaii my wonderful hubby gave to me for Christmas this year. He really went over the top this time and really spoilt me. 🙂 I'm sorry there aren't close-up pictures of everything. It was very difficult to fit all my kawaii Christmas gifts in the photos…but you'll get the idea. 🙂
Please note: This blog post features LOTS of photos!
First up are eleven kawaii letter sets: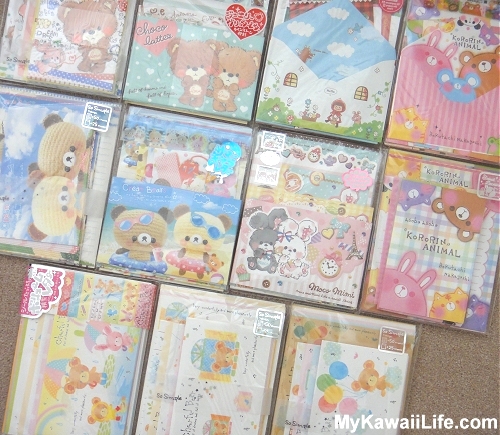 Most of these were released two or three years ago. They're all so cute! I keep changing my mind about which one is my favourite. I love them all!
He also found some sweet Disney letter sets from Japan for me: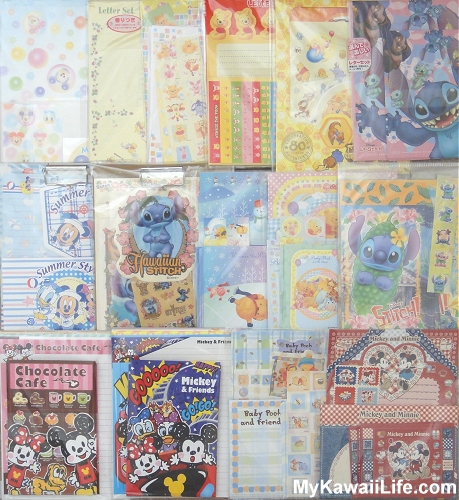 The two in the bottom left corner are new releases from Kamio but the rest are pretty old. Most of them were released exclusively at the Disney Store in Japan several years ago. He knows how much I love Eeyore, so there are lots of Winnie the Pooh and Baby Pooh sets in the mix. And, of course, there's Stitch. He knows he can never go wrong with Stitch. 🙂
Next up are two My Melody letter sets. I was looking everywhere in Japan for these kawaii letter sets but, sadly, I couldn't find them. I'm very happy to have them now. 🙂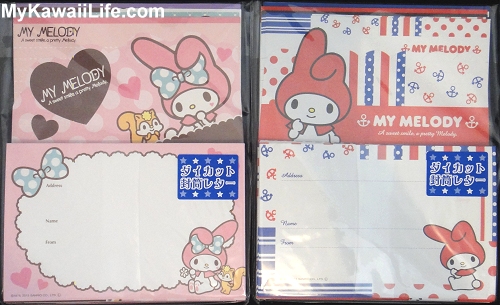 These weren't the only Sanrio letter sets he found for me. There are also two Hello Kitty letter sets. They both come in cute little plastic folders. Each folder has a separate compartment in the side to hold a pen. Too cute!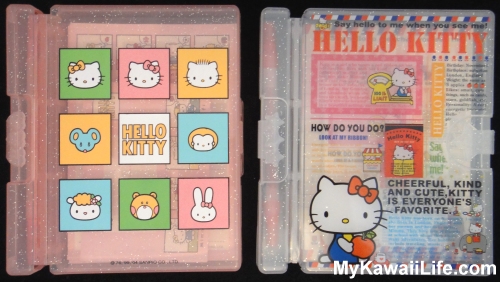 He even found two vintage Hello Kitty letter sets from the 90s.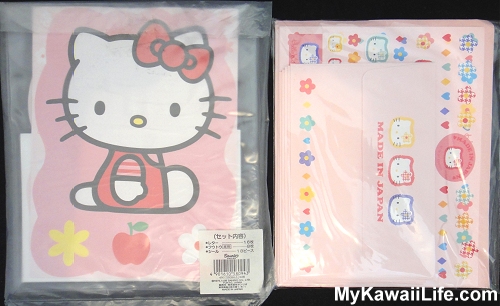 I particularly like the letter set on the right. It reminds me of a set I used to have when I was a teenager and writing letters to my penfriends. It brings back happy memories.
My hubby also bought some loose lots of letter sets for me.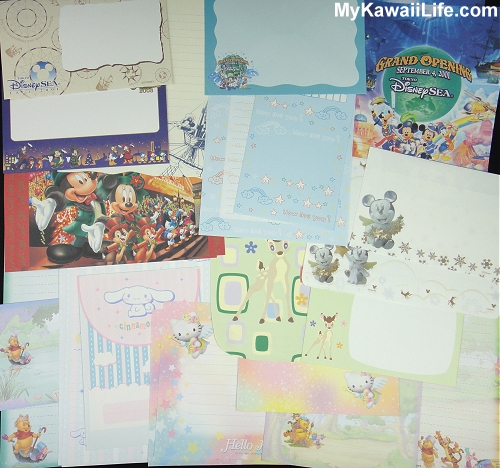 I couldn't fit all the sets in one picture but it was a nice selection of old and hard to find Disney, Sanrio and San-X letter sets from Japan. I was particularly surprised by the Disney Sea letter sets. I love them!
By the time I had opened all the letter sets, I truly felt very spoilt, but the fun wasn't over yet. There were still sticker sheets, sticker sacks and memos to come!
The sticker sheets he picked out for me are adorable!

They include some regional Hello Kitty sticker sheets (I particularly love Hello Kitty riding a sting ray!) and a sheet featuring one of my favourite kawaii bears – Bear's Doodling.
While I love my stickers, my hubby knows I'm obsessed with sticker sacks, so that's where he went a little overboard.
First is a selection of regular sticker sacks: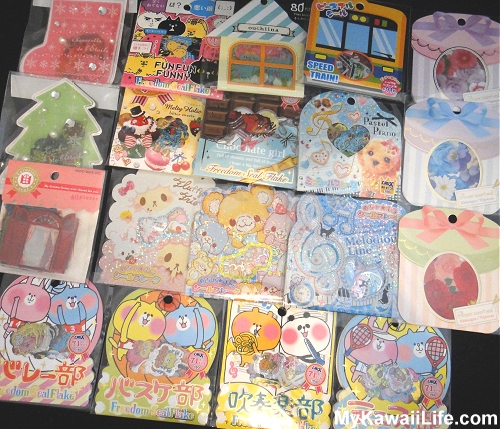 I particularly like the sheep sticker sack. I hadn't seen the four sacks at the bottom before, so I am particularly fond of those too.
He also purchased the Christmas books sticker sacks series for me.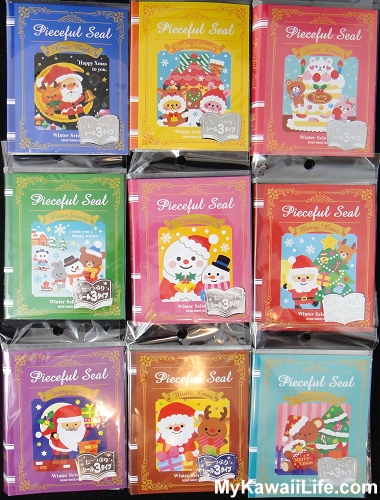 I had had my eye on these for awhile. I love Christmas sacks, but this series was a little more expensive than usual, so I had been putting off buying them. I'm so happy to have them now. They are so cute!
Next are three sticker sacks from Mind Wave. I had been reluctant to buy these too as the charm makes them more expensive. The sticker flake designs are so sweet though.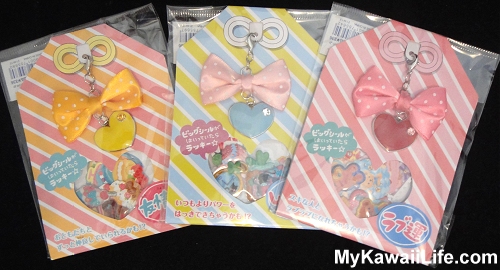 Also from Mind Wave are six sticker sacks that have been released for New Year.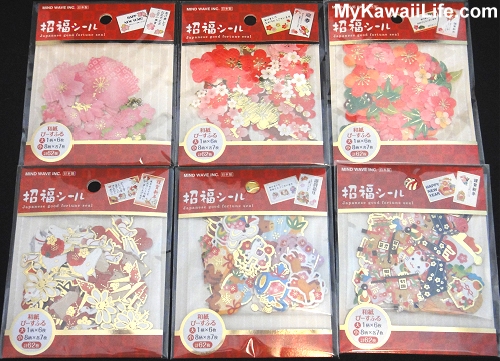 All of these sticker flakes are made from washi paper. I loooove Washi sticker flakes! The top three sacks feature sakura while the bottom three focus more on New Year icons, in particular, images of horses for the start of the Year of the Horse. I was born in the Year of the Horse, so I really like these. 🙂
Finally, there are four sticker sacks from Crux.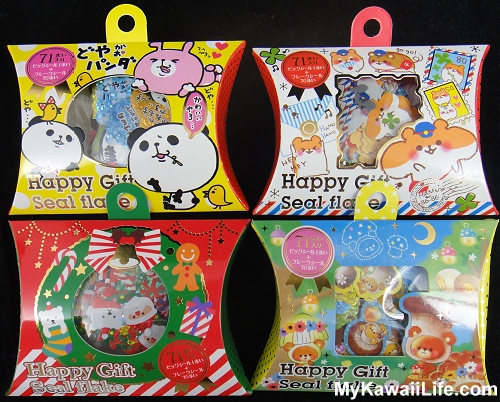 Actually, they are more like little boxes. The packaging is very cute, although I'm having trouble working out how to store them. Flat sacks can be stored a lot easier! I do really like these flakes though so I might have to track down the rest of the series.
Lastly, we come to the memos. I don't collect a lot of memos, but there are some designs that are just so adorable that I can't help myself. They are usually regional Sanrio memos, San-X memos or cute kawaii bears and bunnies.
For Christmas, my hubby found some old, mostly Japanese-style, Hello Kitty memos for me.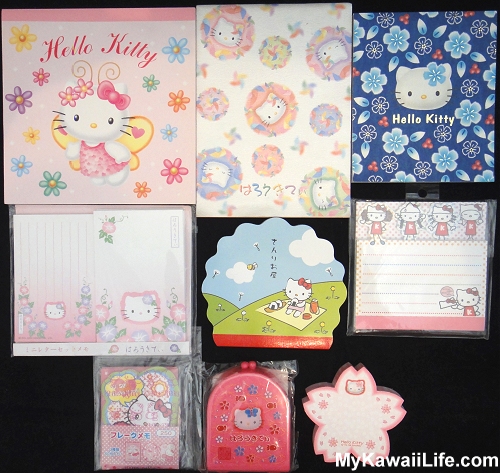 I adore the one in the middle – the one with Hello Kitty eating onigiri (rice balls). There's also a mini letter set in the picture (in the middle on the left). So pretty. 🙂
For my kawaii Christmas, my hubby also found an absolute mountain of loose memos for me. This selection is all Japanese regional Hello Kitty memos. They are all so cute!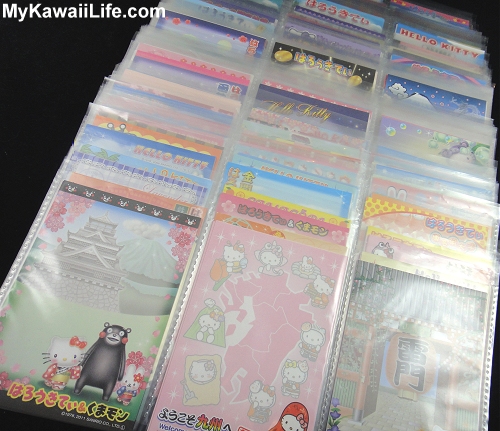 To be honest, I haven't counted how many there are, but I'm guessing there are about 350 different designs. I had no idea there were that many designs out there. I'm sure I'll be looking at these over and over again! Sorry you can't see much from the photo. It's challenging to work out how to show them all. Perhaps I will do another blog post just for them so you can see some of the designs up close.
There was also a collection of Japanese regional Hello Kitty mini memos: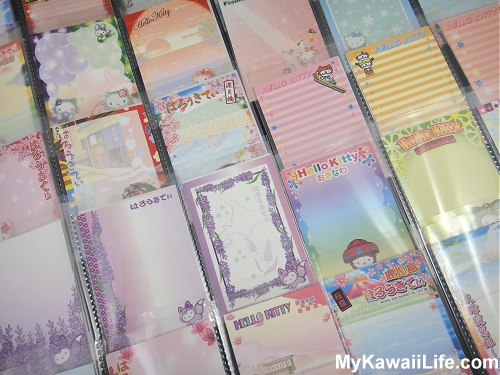 Again, I haven't counted them, but I am guessing there are about 300 different designs. I think I will have to do a separate blog post for them too. 🙂
Finally, there was a random selection of Sanrio memos.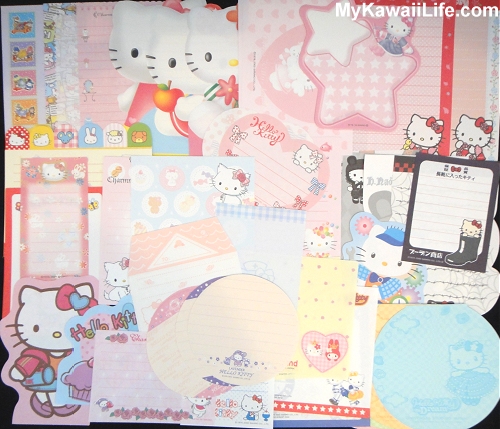 I couldn't fit them in all in the picture, but you get the idea. A lot of them are die-cut memos. Most of them feature Hello Kitty but there are few Charmmy Kitty ones as well. There are even a few from Sanrio Puroland!
Well, now you know why I feel so lucky and spoilt! My hubby has been so sweet in finding all this kawaii for me. The last few months have been such a challenge with surgery and everything…and this certainly brought a smile to my face. I feel very blessed.
I hope you've enjoyed looking through my photos. I will feature some of the items here on separate blog posts sometime so you can have a closer look. In meantime, if you see any pictures you like, please pin them to Pinterest. It helps me work out what you would like to see more of. 🙂