Hello Kitty Regional Letter Sets
One thing I love to collect is regional Hello Kitty letter sets – these are letter sets that are available only in specific areas of Japan. I have sets from lots of different regions including Hiroshima, Okayama, Okinawa, Kanazawa, Kobe, Kiyosato and lots more. And I'm always looking for new ones.
I love seeing Hello Kitty in different settings and costumes. One of my favourite sets was released in Yokohama Chinatown in 2001: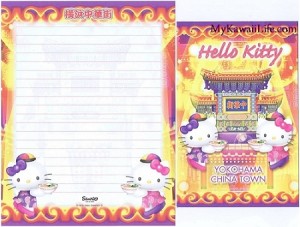 The area is famous for it's Chinese food. I haven't actually been there myself (yet) but I'm hoping to visit next time I am in Japan.
Look out for more picture of my regional Hello Kitty letter set collection coming soon.