Kawaii Pens
During our trip to Japan, I was on a mission to buy kawaii pens. I had meant to buy some on our previous trip but for some reason, I only came home with one. So, this time, I was determined to bring home a whole bunch. I wasn't after anything in particular…just something that was cute and that I could use for writing letters to my penfriends. And this is what I ended up with: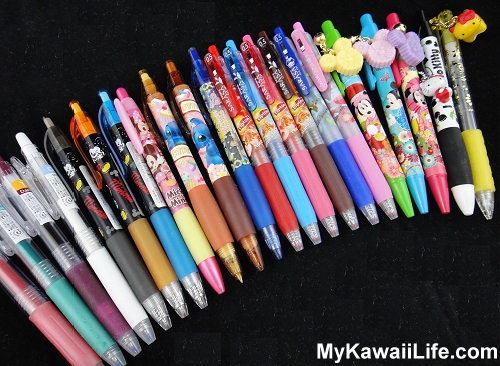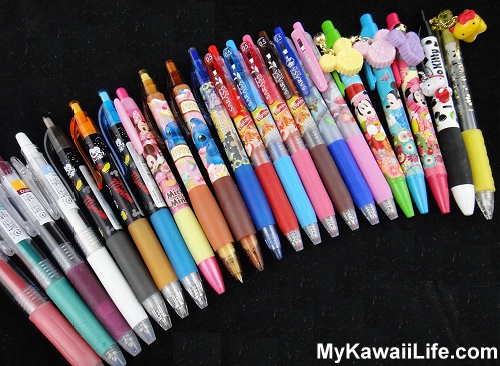 My hubby didn't quite understand why I wanted so many (especially since we have plenty of perfectly functional, but boring looking pens around the house) but he indulged my obsession and walked round and round the pen sections with me in many stores. 🙂
The first pens I bought were from the Sanseido Stationery store in Osaka. They are part of a range of scented pens called 'Sweets Party'. All the scents are based on a particular dessert. I was tempted to buy the complete set, but since it was my first real shopping day, I restricted myself to two. I'm not really sure what the scent of the blue one is, but the pictures show blue and white ice-cream as well as mint leaves. Whatever the scent is, it is sweet. The pink one is sakura tea, perhaps with berries. I thought it was a very appropriate Japanese souvenir.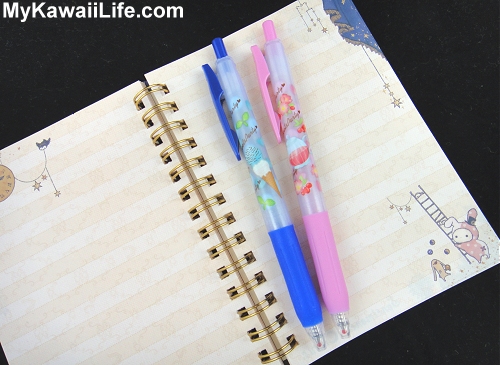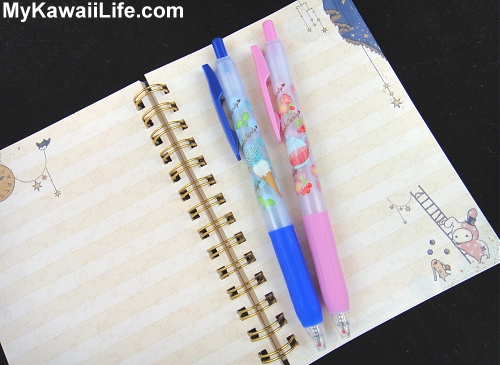 Later on in our trip, I discovered another range of kawaii scented pens made by the same company, but this time in association with Lipton Tea. Again, I was going to buy the whole collection, but when going through the testers, I discovered that some of them smelt terrible! So, I just bought the ones I liked. 🙂 They are Apple Tea, Caramel Tea au Lait, Peach Tea and Vanilla Tea au Lait. My penfriends and swappers can look forward to some very nice scented notes in the near future. 🙂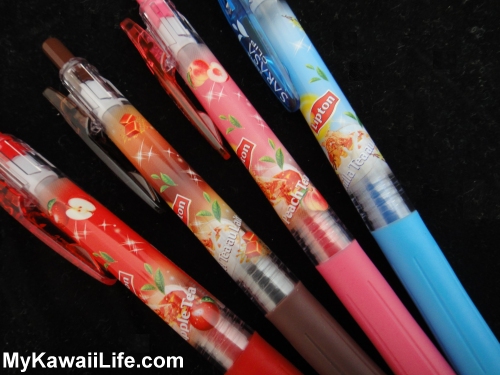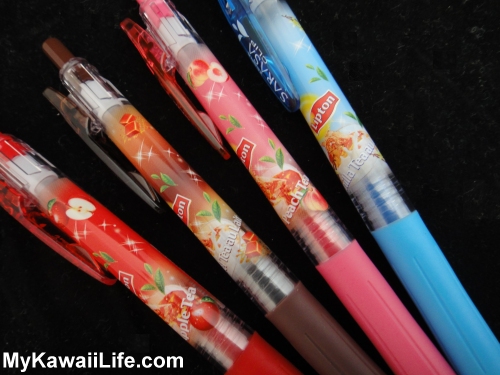 My favourite kawaii pen purchase was a set of three Minnie Mouse pens from Tokyo Disneyland. They were on special, so I just couldn't resist them! Each one features Minnie Mouse dressed in a kimono on a floral Japanese background. They all also have a floral Minnie Mouse ears charm attached and a little bell. They are just regular black pens, but they are so sweet!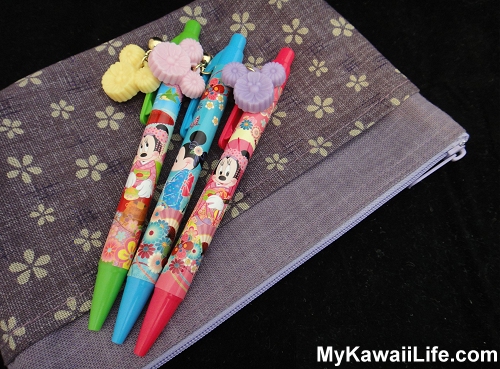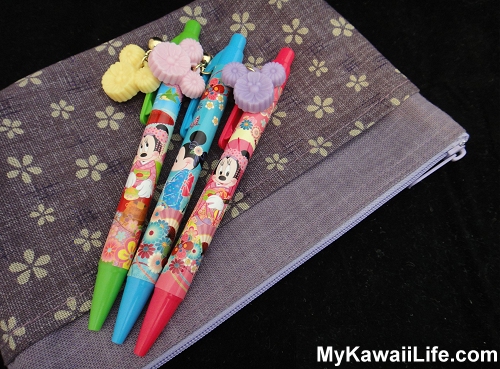 Incidentally, the purple pencil case they are sitting on is something I picked up in Takayama. 🙂
The last purchase I wanted to share are my Hello Kitty pens. They came in a gift pack with stickers, a memo pad, a bag, some Hello Kitty tissues and a few other bits and bobs. The yellow one is actually a mechanical pencil, but it's one of my favourites. I usually don't buy things with charms on them as they tend to be a bit expensive, so these were a nice find.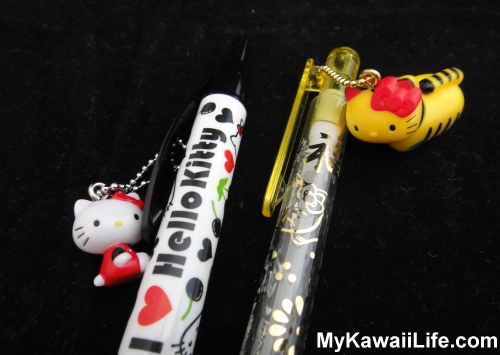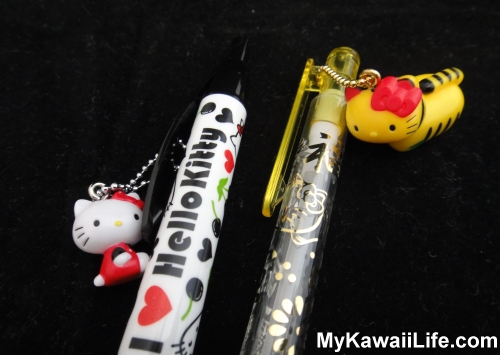 I'm sure I could have bought even more kawaii pens in Japan. There are so many cute pens all over the place. But, I'm extremely happy with my finds and can't wait to get writing with them!
If you like these kawaii pens, please pin these pictures to your Pinterest. I'd really appreciate it. 🙂