Kyoto Yodobashi
Yodobashi Camera is well known for their huge computer and electronics stores all over Japan. They have branches Tokyo, Osaka, Kyoto and lots of other cities around Japan. Usually when you see them mentioned on a travel blog, it's because of the gizmos and gadgets you will find inside and, on the surface, they appear to be of little interest to kawaii lovers. However, if you venture inside, you will soon find it is a kawaii paradise.
I love Yodobashi Camera and try to visit as many locations as possible. They are always open late (usually until 10pm) so it's a nice way to finish off a day. I always spend an absolute fortune there and have a lot of fun. 🙂
On our first night in Kyoto, we visited the Kyoto branch. The plan was to grab some dinner and then shop. It didn't quite work out that way though. We got so distracted by the shopping that we forgot to eat, so dinner ended up at McDonalds. Lol. In fact, we were enjoying ourselves so much that we seemed to forget that we had landed in Tokyo only that morning and we were supposed to be exhausted!
There are three main areas to look for inside Yodobashi. They usually have descriptions of each floor in English, so it's easy to find the area you are looking for. The first department I head for is the toys section. Here you will find all sorts of toys, character goods, stickers, jigsaw puzzles and more.
I usually head straight for the character goods. Usually you will find a nice selection of San-X goods (especially Rilakkuma) and Sanrio goods (usually Hello Kitty and Jewel Pet).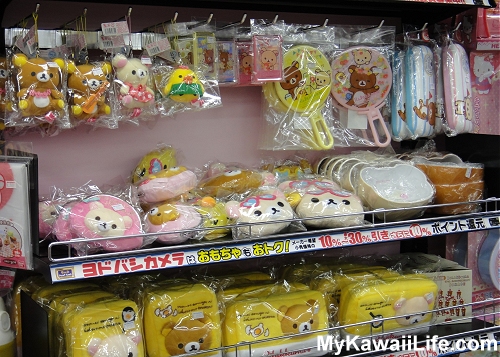 The Kyoto Yodobashi store even has Studio Ghibli collectible figures.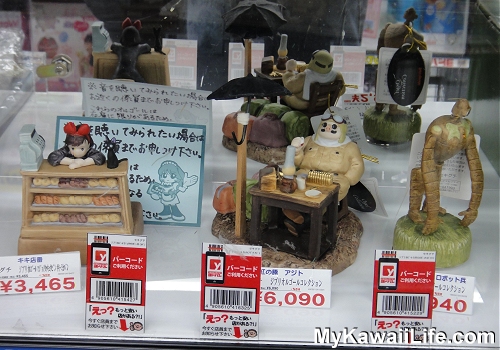 Yodobashi is also a great place to pick up cute jigsaw puzzles. They usually have a good range and they are cheaper at Yodobashi than at any other toy store. They have all sorts of characters to choose from including Disney, Sanrio, San-X, Snoopy and Studio Ghibli.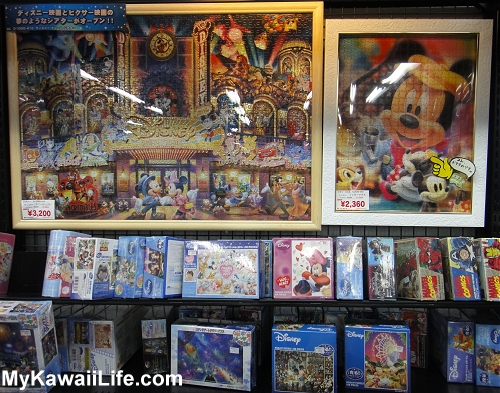 I was planning to buy a new Sentimental Circus puzzle on this trip. I did find some cute ones, but in the end, I decided on this adorable Winnie the Pooh puzzle. I can't resist anything with Eeyore. 🙂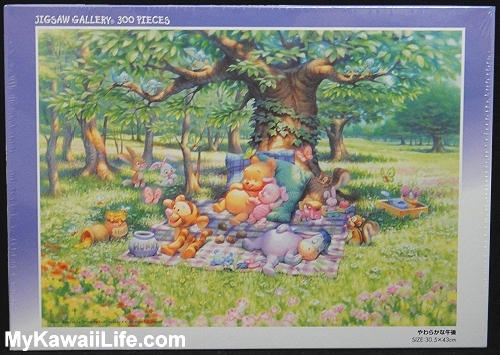 You can also find Re-Ment and other blind box toys at Yodobashi. Sometimes they even have some of the old lines on special.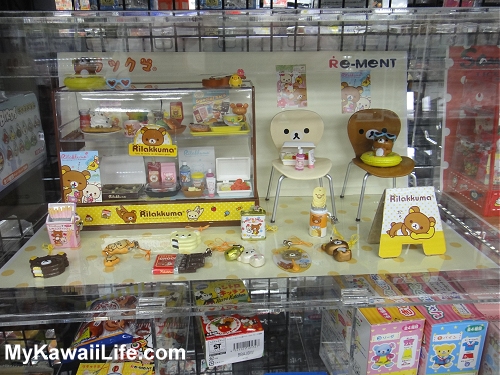 The second area I look for at Yodobashi is the Gachapon toy machines area. There are usually a few machines outside the store, but there is often a huge selection somewhere near the toy department too.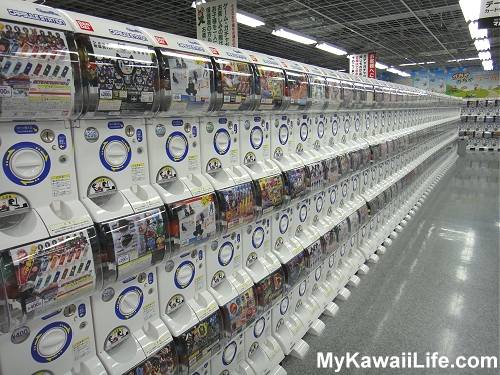 You never know what you will find amongst the Gachapon machines. I usually look for the Disney, Sanrio and San-X machines, but there are plenty of other cute, kawaii toys to choose from too.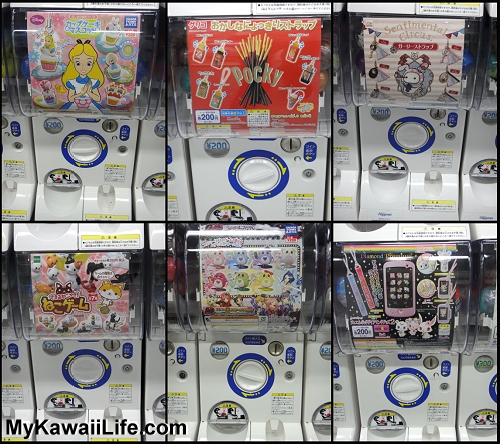 Since it was only our first night in Japan and I knew I was going to be seeing a lot more of these machines, I only played two of them. Both of them were San-X phone accessories. The first is a Sentimental Circus phone charm and the second is a Nyanpuku mini stylus for use with a touch-screen phone.

The third and final department I look for at Yodobashi is the stationery department. This area is much bigger in some stores than in others. The Kyoto branch had one of the best stationery areas I have seen so I spent quite a lot of time there.
When I visited, they had a lot of the latest San-X stationery, especially the Rilakkuma marching band range.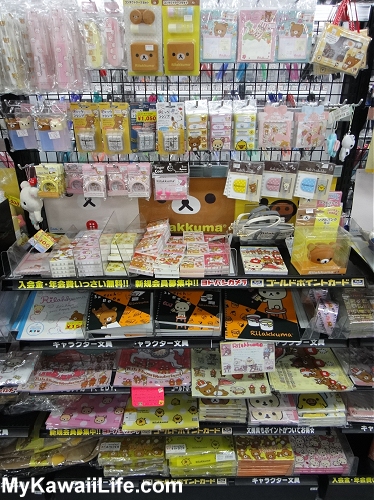 They also had a particularly large selection of kawaii stickers.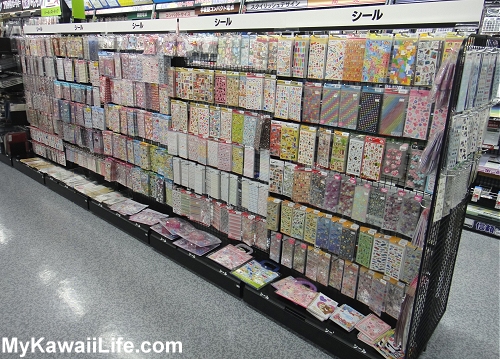 I spent AGES looking through all these stickers trying to decide which ones to buy. I will save my choices for another blog post, but here's a peak at a small range of stickers that were tempting me.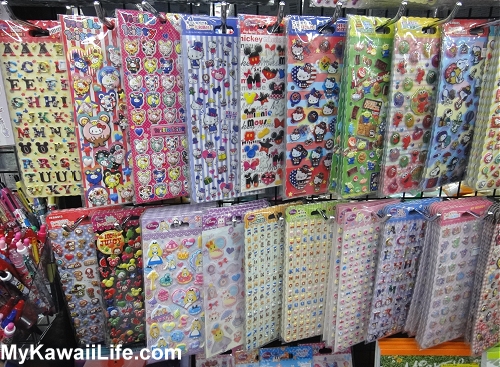 One of the unusual things about the Kyoto branch of Yodobashi is that the Yodobashi store itself does not take up the whole building. It does take up several floors but you will find other stores in the building as well. And if you love kawaii, you will love the basement. There you will find a craft store (where I picked up a cute stamp), a 100Y store (where I found some cute Hello Kitty letter sets) and a candy store (where I found delicious and adorable Hello Kitty and Rilakkuma snacks).
And when you are finally shopped out, you can stop by Baskin Robbins. If you're really lucky, they'll still be serving their yummy watermelon ice-cream with chocolate chips to represent the watermelon seeds.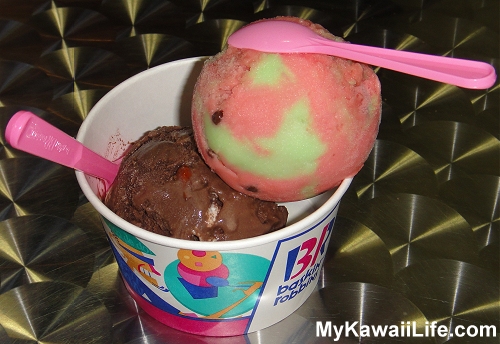 Yodobashi is a great place to shop, no matter what city you are in. I highly recommend checking them out if you are in Japan.
If you enjoyed reading about Yodobashi, please Pin this page to Pinterest. I'd greatly appreciate it. Thanks so much!