Rilakkuma Sticker Sacks
I have quite a few Rilakkuma sticker flakes in my collection. Most of them are the common ones – Rilakkuma and strawberries, Rilakkuma bath time etc. I thought though that you might like to see some of the rarer Rilakkuma sticker sacks in my collection.
The first is a standard Rilakkuma sticker sack released by San-X in 2004. I haven't actually opened it, but I believe there are 20 different designs inside.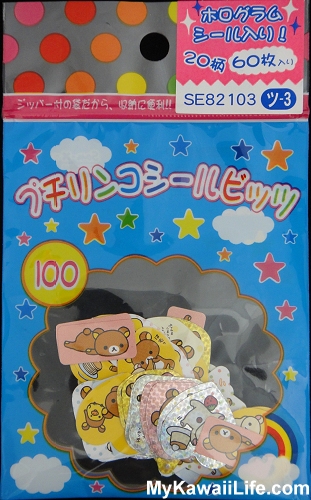 The next two sticker sacks aren't as old. The one on the left was released under license by Sun Hing Toys in Hong Kong and I think the one on the right was given away with a magazine in 2010.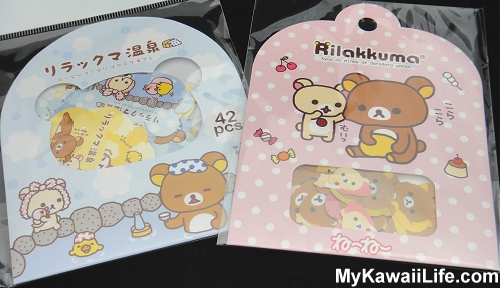 All the flakes in the one on the right are the same shape – the shape of Rilakkuma's head. They are a bit like Mickey Mouse ears, but the face is wider to look more like a bear. There are different scenes printed on each flake.
It's a little hard to tell what the designs are in the pink sticker sack as again, I haven't opened it. I believe there are ten different designs though and many seem to feature Rilakkuma or Korilakkuma with a blanket.
I think this next sticker sack was also given away with a magazine. It is dated 2011 and comes with a fold-out cardboard box.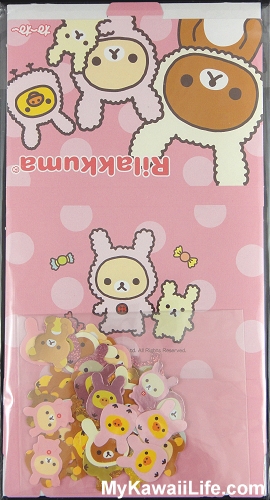 This is one of my favourite Rilakkuma sticker sacks as I love it when Rilakkuma and his friends are given bunny ears. They are just too cute!
The next sticker sack is actually a cute little Rilakkuma tin with sticker flakes inside. The tin features Rilakkuma and his friends enjoying a meal.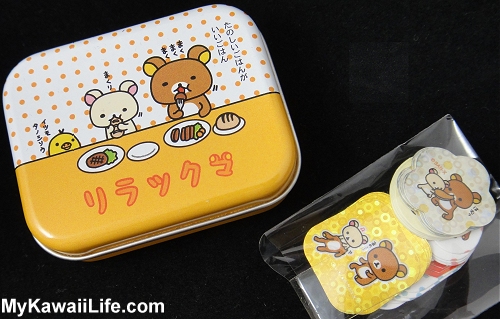 There appears to be six different designs of sticker flakes inside (two of them are shiny). Some appear to follow the theme of the tin, but others do not. There is no date on the tin, so I am not sure when it was released.
I quite like sticker flakes coming in little tins, but I'm not sure what I think of them coming in jelly cups.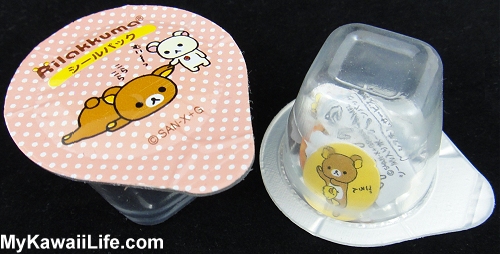 While the stickers inside look really cute, I can't look at them closely without completely ruining the packaging. I am not sure if I will ever open these. I'm not sure when or where they were released either.
I do have one jelly cup I can open though as it has a proper lid.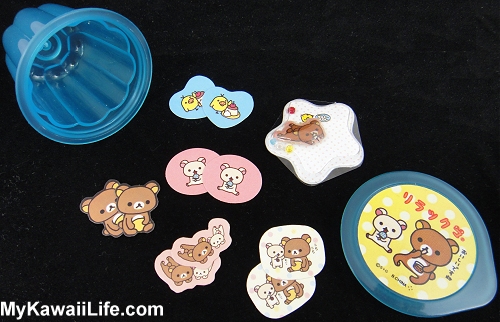 There are five different sticker flakes designs inside (two of each) as well as a big plastic sticker. They are not dated, so I am not sure when they were released either.
I'm very lucky to have found these Rilakkuma sticker sacks over the years. All of them came from collectors down sizing their collections. I wonder how many more I am still missing from my collection. 🙂