The Narita Express Train
Your first experience when you arrive in Tokyo is likely to be a ride on the Narita Express train from Tokyo Airport. The Narita Express (also known as the NE'X) is a fast train that takes you straight from Narita Airport to Tokyo Station and if you wish, on to Shinagawa, Shibuya, Shinjuku, Ikebukuro or Yokohama.
We love the Narita Express. It's very easy to find – you just have to take the escalator downstairs at the airport and you are there. It's also very quick, taking just under an hour to reach Tokyo Station. On our first few trips to Japan, we tried using shuttle buses direct to our hotel, but found them to be slow (they have to sit through Tokyo traffic) and unreliable (one dropped us two blocks from our hotel). So now, we use the NE'X every time.
The Narita Express train carriages are very comfortable. They really have thought of everything that the traveller needs. At the end of each car is plenty of space for your luggage. There's even a safety bar so your luggage doesn't move around too much while the train is in motion.
The seats are also very comfortable. They have high headrests and can be reclined. You even get a seat pocket on the back of the chair in front of you, a drinks holder and a foldaway table.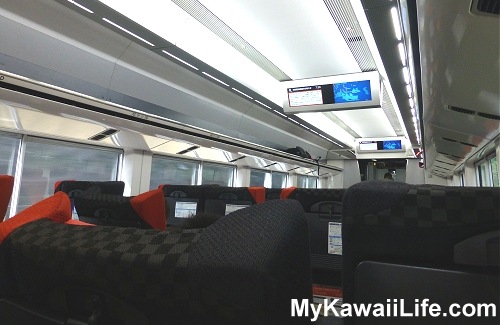 In case you are hungry or thirsty, an attendant comes through the train during your journey with a refreshment trolley. There are menus and price lists in both Japanese and English on a card in your seat pocket so you can choose what you would like to order. You can even purchase a Narita Express train souvenir if you like.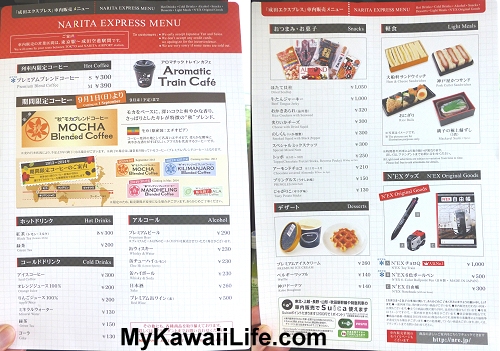 Or you can do what we did on our last trip and pick up a drink from a vending machine on the platform before you board. This time, we choose a kiwi fruit flavoured soft drink. It was good, although it would have been better without the fizz.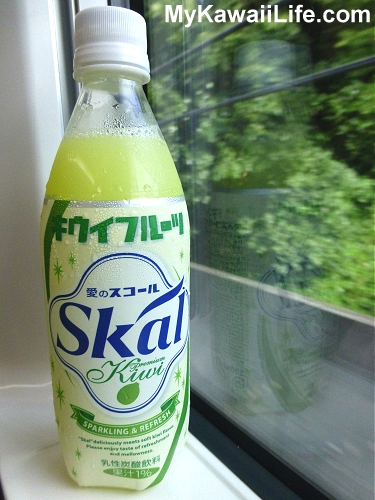 You don't have to worry about missing your stop when travelling on this train either. It makes very few stops and there will be an announcement, in English, a few minutes before each stop to give you plenty of time to get your things together and prepare for disembarking the train.
There are also several displays throughout the carriage to show you where you are and what the next stop is so you don't have to stress.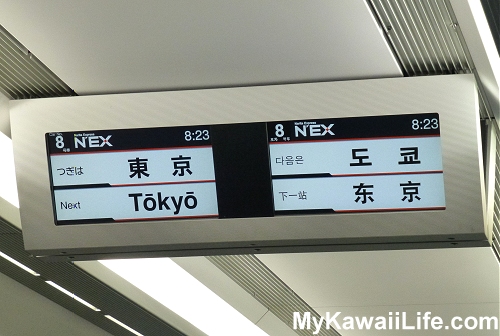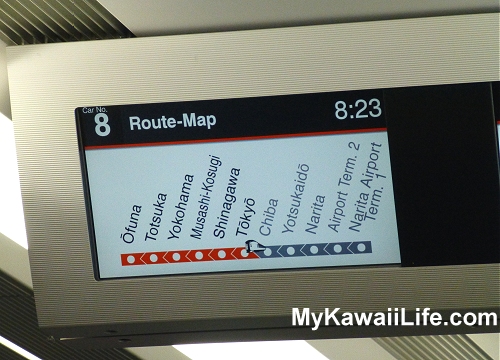 My favourite thing about the journey on the Narita Express is the scenery. It gives you a great first glimpse of every day life in Japan. You start in a fairly rural area with lots of fields and farmers and gradually make your way towards city life.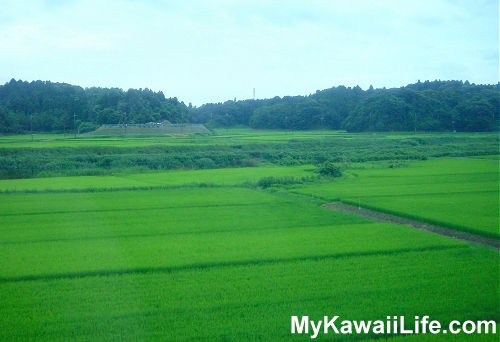 As you approach the city, you start to see more and more high-rise buildings, power lines, cars and tight living spaces – everything you associate with a big city like Tokyo.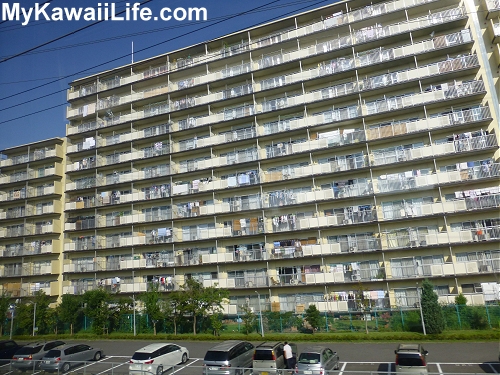 If you're sitting on the right side of the train, you will even catch a glimpse of the new Tokyo Sky Tree as you get closer to Tokyo Station.

The Narita Express is a relaxing, stress-free way to reach Tokyo from Narita Airport (Terminal 1 or Terminal 2). If you are not a Japanese resident, it is also a great deal. If you are travelling on a Japan Rail Pass, your Narita Express ticket is included so there is no extra cost to you. You can get your ticket at the same place and at the same time that you pick up your rail pass.
A return ticket from Narita Airport to Tokyo Station generally costs 5,880Y (as of October, 2013). However, if you are not a resident of Japan, you can purchase the Narita-Express Suica Card package. We did this on our trip to Japan in 2012 (in 2013, we were travelling on a rail pass). It only costs 5,500Y and includes a Suica card (valued at 500Y) with 1,500Y worth of credit.
Suica cards a brilliant! They are essentially pre-paid cards. You add credit to them and then you can use them to pay for your tickets on all JR trains and subways around Tokyo. Even some stores and vending machines will accept them. They save a lot of time. Instead of having to work out the fare and then purchase a train ticket every time you want to go somewhere, you simply swipe your Suica card at the ticket gates at the station and the correct fare will be automatically deducted from your card. You can see how much credit you have left every time you use them so you will always know when you need to top them up (this can be done at any station too).
They also last for ten years, so if you return to Japan, you can use them again. We found this particularly useful on our last trip. We didn't need to purchase our Narita Express tickets as we were travelling on a rail pass so we brought our Suica cards from our previous trip and gave them quite a work out around Tokyo.
I hope I have given you a bit of an insight into catching the Narita Express train from Tokyo Airport. If you have any questions, please leave a comment below and I will do my best to answer them.