Rilakkuma Squishies
Since Faith shared her wonderful Rilakkuma collection with us, I thought I might show you a tiny part of my own Rilakkuma collection – two Rilakkuma strawberry squishies.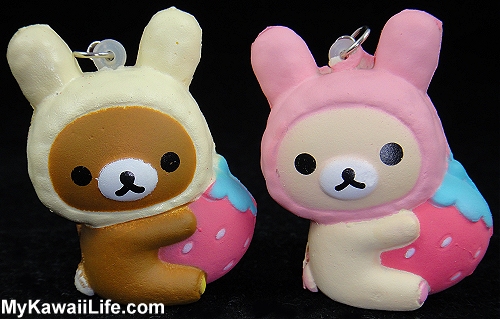 In reality, my Rilakkuma collection is quite small. I have plenty of Rilakkuma letter sets and stickers but not much else. I spend too much money on other things to afford more Rilakkuma. 🙂
But, these two little squishies are a special part of my collection. They were only available from San-X Gachapon machines in Japan last year and were a gift from my very sweet friend, Ellen. For those of you who don't know, Ellen and I met up in Tokyo last year and had a lot of fun shopping for kawaii together. These came from some of our exploits. 🙂
Both squishie bears have cute little bunny rabbit hoods and both are holding a strawberry. For some reason, Rilakkuma is a lot squishier than Korilakkuma. Both have an elastic band so I can attach them to a bag or hang them on a hook. I haven't quite found the perfect spot for them yet but I'm very happy to have them in my collection. Thanks so much Ellen!
Do you have any favourite Rilakkuma items in your collection? If so, I'd love to hear about them. Please leave a comment below or drop me an email through my contact page. And, please pin my Rilakkuma squishes to Pinterest.