Japanese Pasta Recipe
Food courts in Japan are amazing. Of course, they have their usual selection of fast food (usually a McDonalds, KFC and/or Mos Burger) but they also feature a wide range of Japanese specialities, including noodles, omurice and much more. We ate lunch in a food court on our shopping day in Osaka. I was tempted by all the noodles but, on this occasion, I headed for the Japanese/Italian place for some Japanese pasta.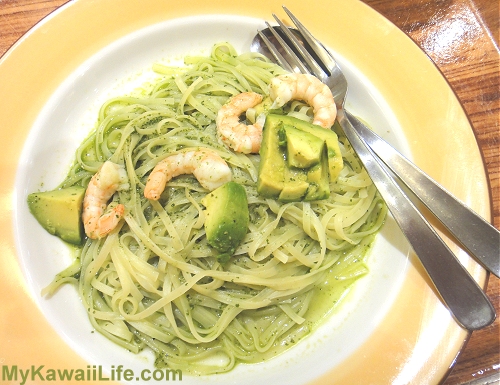 I was actually planning to order pasta in a creamy white sauce (like my Japanese Salmon Pasta Recipe) but I changed my mind and ordered an avocado and shrimp pasta. It's very unlike me to choose a dish like that. I don't usually eat avocado – I don't mind it, but I don't go out of my way to eat it.
It turned out to be very filling and absolutely delicious! I loved it so much that I actively went looking for it on several other occasions during our trip. I'd love to make it at home, but sadly, I don't know how it's been flavoured. Some kind of herb and probably some sort of oil I guess. It's hard to tell. If anyone knows or finds a recipe, please let me know. I would really appreciate it!
Oh, and in case you're wondering, most Japanese pasta places seem to give you a fork and spoon to eat pasta, not chopsticks. I'm not sure why. If you're used to eating noodles with chopsticks, I don't think pasta would be very challenging. Still, the kids sitting near us in the food court seemed to be fascinated by us eating with a fork and spoon. 🙂