Disney Letter Sets
Disney letter sets are another thing I hunt for when in Japan. They aren't always easy to find, but they are so cute that they are worth the time it takes to find them. On our most recent trip, I found twelve Disney letter sets and two Disney mini letter sets. Actually, I found more than that, but that was all that I could fit in my suitcase. 🙂
My favourite find was the Romantic Minnie and Daisy collection by Sun-Star. I had seen these online before we left and I was hoping to find them in Japan. I was very excited when I walked into a store in Osaka and saw them sitting there. Of course, they went straight into my shopping basket.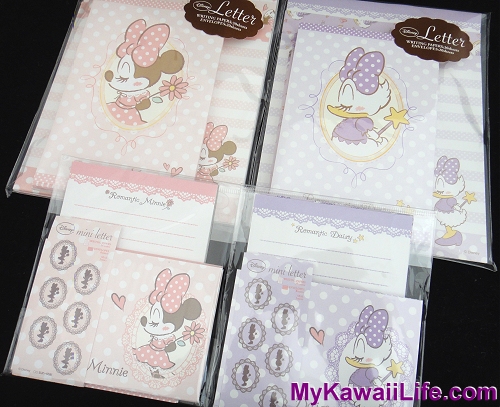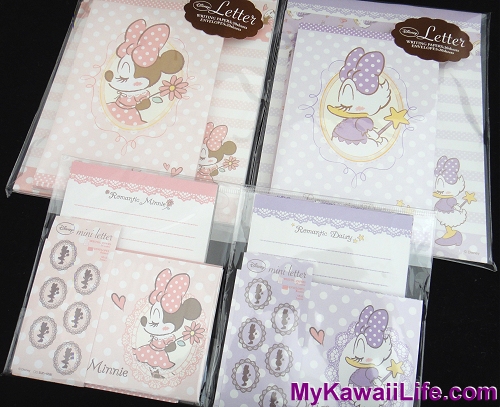 Aren't they sweet? I love the soft colours. The large sets come with 30 sheets (3 designs, 10 of each) and 20 envelopes (4 designs, 5 of each). The mini sets come with 16 sheets (2 designs, 8 of each) and 8 envelopes (2 designs, 4 of each). It's a shame there weren't co-ordinating stickers. I did see co-ordinating memo pads though.
Another Disney collection I was looking for was the Mickey and Minnie sweets collection by Kamio. Again, I had seen them online and was hoping to pick them up in Japan. Thankfully, they were very easy to find.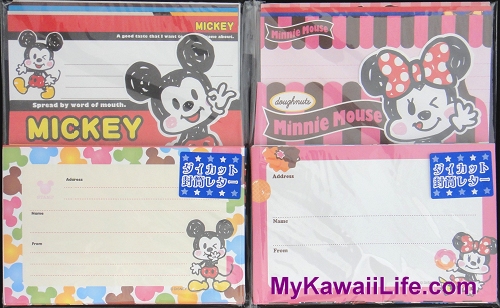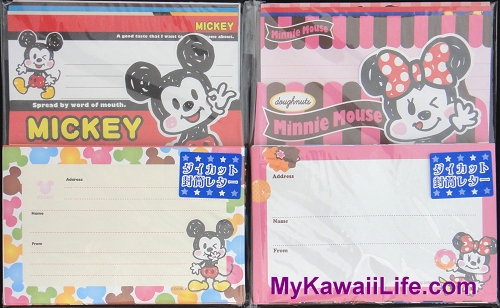 The Mickey Mouse set follows a candy and chocolate theme while the Minnie Mouse set features a donuts and cookies theme. Both are super cute! I love the way Kamio stylises characters like Mickey Mouse to look like a sketch. It just seems to add to their cuteness. Both sets come with 32 sheets (4 designs, 8 of each) and 16 envelopes (4 designs, 4 of each).
I also found a new style of Disney characters by Kamio. They appear to resemble the Disney Cuties a little. The style seems to be called Drop Kitsch and the artwork is done by Seri Norica, the illustrator of Astro Baby.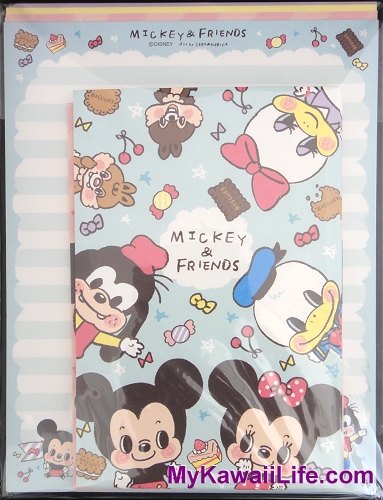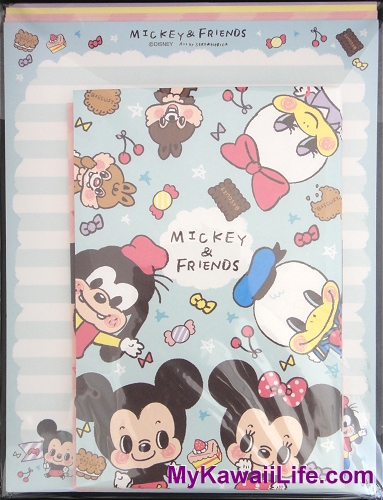 This Disney letter set features Mickey Mouse, Minnie Mouse, Donald Duck, Daisy Duck, Goofy, Chip and Dale. I particularly like smiling Donald and Daisy. It comes with 32 sheets (4 designs, 8 of each) and 16 envelopes (4 designs, 4 of each).
Another one of my surprise finds was this sweet Bambi letter set: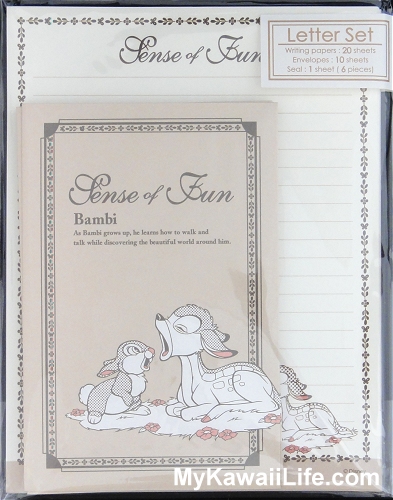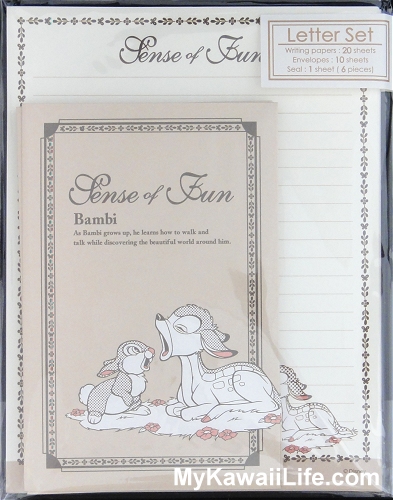 It wasn't the same value for money as the other sets but I thought it was sweet. The price was the same as the other sets, but it only came with 20 sheets (2 designs, 10 of each) and 10 envelopes (1 design). It was part of a collection of stationery by Sun-Star. There were other characters available in the collection, including Alice In Wonderland and Winnie the Pooh, as well as other stationery items, like notebooks.
Because of the lower value (and my rapidly filling up suitcase), I chose to just purchase the Bambi letter set. I've always been a big fan of Bambi, especially Thumper, and I really like the colours on this set.
I also found some single design Disney letter sets by Sun-Star. Each set comes with 8 sheets and 4 matching envelopes.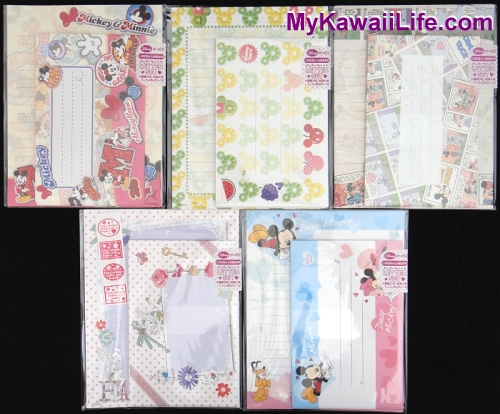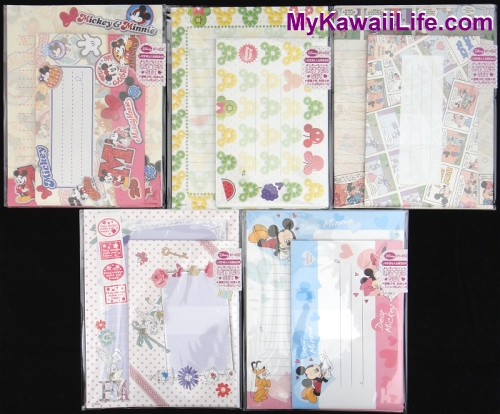 Sun-star has released a lot of these Disney letter sets and they don't seem to retire them. Many of the sets I saw on this trip were the same as those that I saw in 2012…and even then, many of them were old designs. I did manage to find some new ones for my collection though. I particularly like the Mickey ears fruit design. I don't know why…I just do. 🙂
I've saved my luckiest find until last – my Choco To Happiness Mickey & Minnie letter set: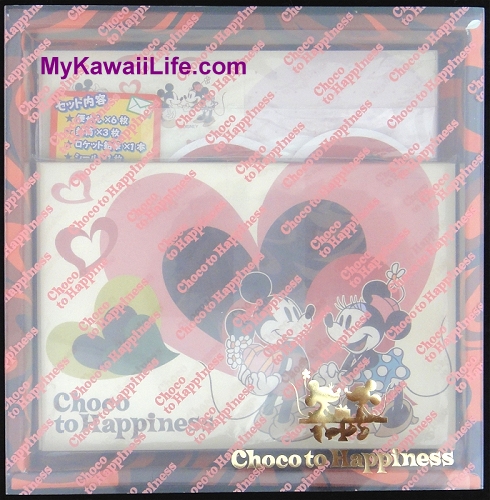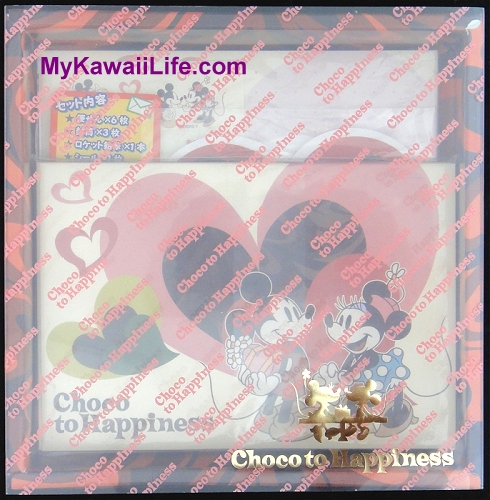 This set was released by the Disney Store Japan many years ago and it was a complete surprise that I found it. We were visiting a collectible toys store (a non-kawaii, non-cute store) and it was just sitting there…and it was priced below retail. So, of course, I snapped it up.
It follows a Valentines theme, so I am guessing it was released around Valentines Day one year. It comes with 16 sheets (single design), 8 envelopes (4 designs, 2 of each), 8 memo sheets and a sheet of stickers. It also comes in a cute little box, although that did get a little squashed in my suitcase.
I love them all, but I think the romantic collection will remain my favourite. What do you think?