The Cutest Hello Kitty Shop In Kyoto
I have visited a lot of cute kawaii shops all over Japan, but there is one store that stands out from them all – Hello Kitty Koubou in Kyoto. It is the cutest, most authentic Japanese Sanrio store I have ever had the pleasure to visit. It's an experience in itself.
From the outside, it just looks like a regular Japanese home in a regular residential street. In fact, if you didn't know it was there, you would probably walk right past it, unaware of the treasures that lie within.
The first indication that Hello Kitty is nearby is an elegant banner on the outside of the building. It is not the usual girly pinks and purples but instead, is a sophisticated Japanese-style design.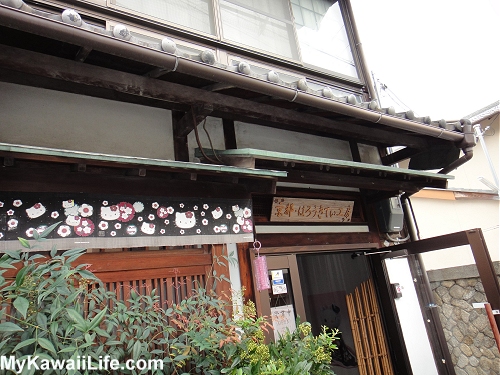 As you approach the door, you will also find a beautiful Hello Kitty statue waiting to greet you.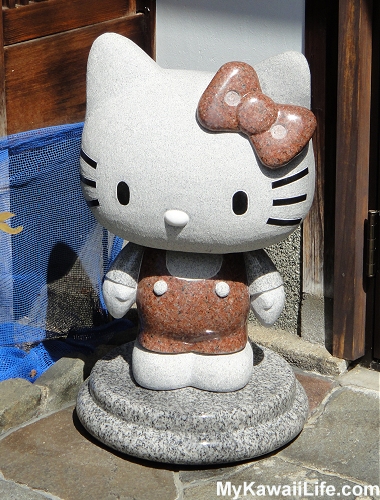 When you enter, you will find yourself in a small entryway. Here, you will be required to remove your shoes. There is plenty of space to sit if you need it and a place to store your shoes while you shop.
Once you have removed your shoes, you can step up into the cutest Hello Kitty shop in Kyoto.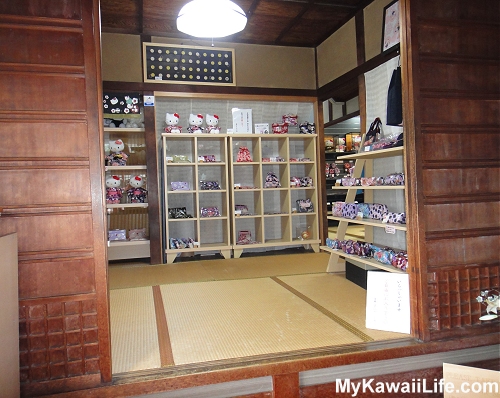 Hello Kitty Koubou has a very traditional interior with lots of woodwork and even tatami mats on the floor. It is a beautiful and fascinating store to walk around, even if you aren't interested in Hello Kitty as it offers a unique look at Japanese styling and how it is incorporated into every day life. Please be careful though – there are one or two low beams, especially when you move from one room to the other, so please do not bang your head.
I believe Hello Kitty Koubou translates to Hello Kitty Workshop. This is an accurate description. The store has a special license with Sanrio that allows them to produce beautiful Japanese-style Hello Kitty fabrics. They then use these fabrics to make many of the products they offer in their store. In fact, when I visited, there was a lady sitting behind the counter sewing while she waited to serve a customer. This means that almost all the items you can purchase here have a special hand-made touch and that you can't buy them anywhere else.
There are two rooms to explore and believe me, I walked around both of them several times trying to decide what to purchase. And it wasn't an easy decision. Everything is so beautiful and so adorably cute!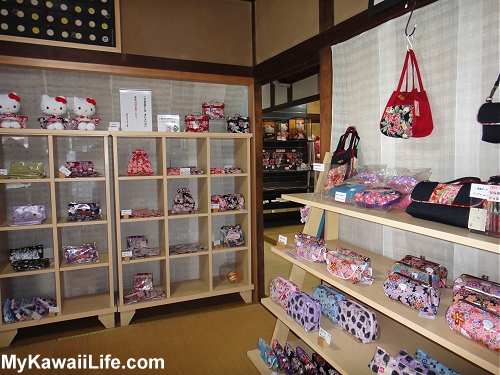 One of their most popular lines seems to be their collection of Hello Kitty plush dressed in kimonos. Their heads seem a little smaller than those you find on other Hello Kitty plush. It makes them look more mature and sophisticated.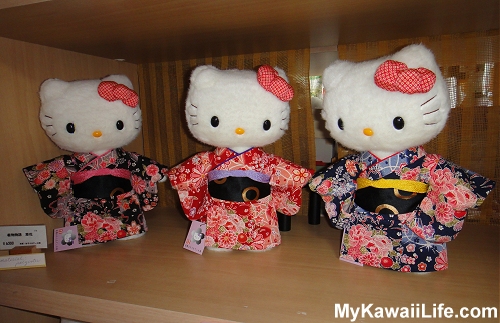 I love these plush! I soooooo wish I had bought one! Or one of these: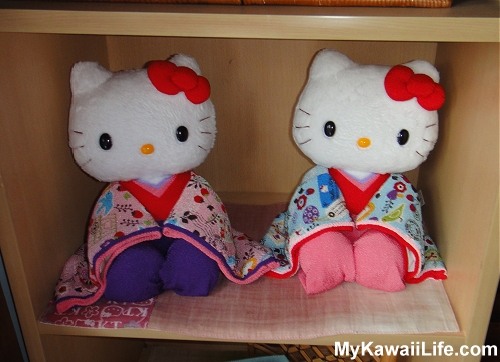 Aren't they just gorgeous!
I did buy a pencil case though. Mine was falling apart so I took this opportunity to purchase a new one. I chose one of the blue ones: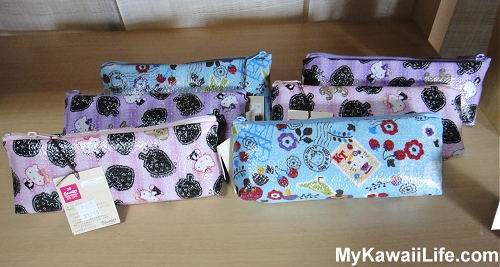 They also offer a wide range of bags. They come in lots of different styles and designs. I really don't know how you are supposed to choose. I wanted to buy them all! Lol.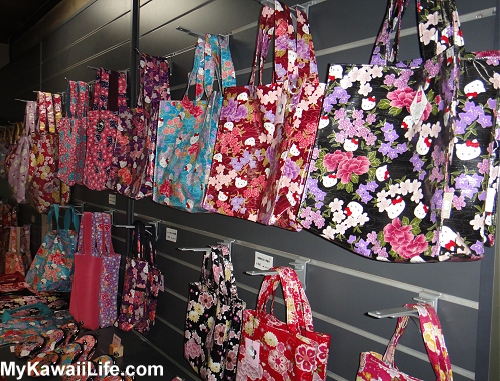 I nearly bought one of these bags (the black and purple one), but sadly, that's another thing I had to leave behind.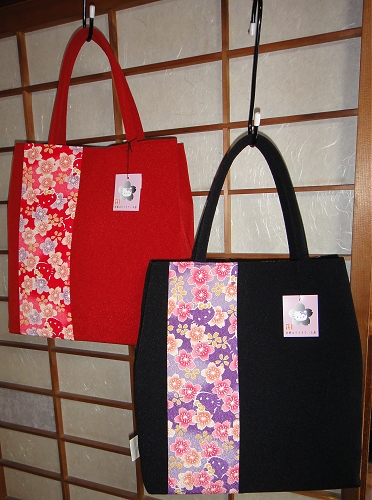 Of course, if you want something a bit smaller than a bag, they have plenty of purses and wallets for you to choose from too:

Or hair accessories: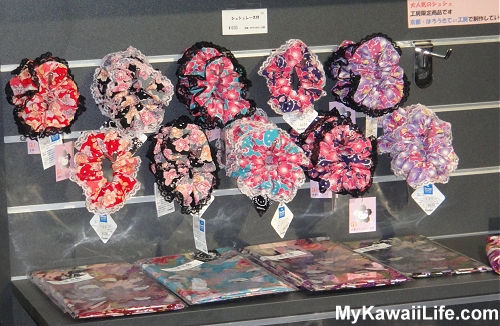 And anything else you can think of that can be made with fabric.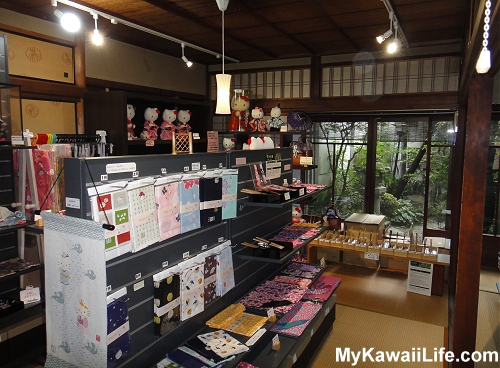 They even have a little section by the counter where you can buy small gifts like Hello Kitty memo pads and phone accessories.
I really do think Hello Kitty Koubou is the cutest Hello Kitty shop in Kyoto. I took a VERY long time to decide what to buy here. I wanted a little souvenir with each of my favourite fabrics. The problem was, I was in love with too many of their fabrics! Lol.
In the end, I decided on the blue pencil case I mentioned above and this little selection of goodies: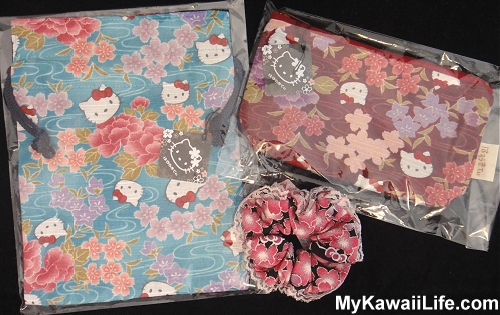 It's hard to tell from the picture, but the scrunchie really does have Hello Kitty on it.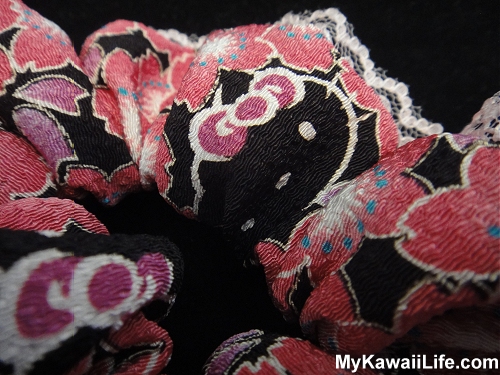 I did purchase two Hello Kitty memo pads too. I can't resist Japanese-style Hello Kitty stationery. 🙂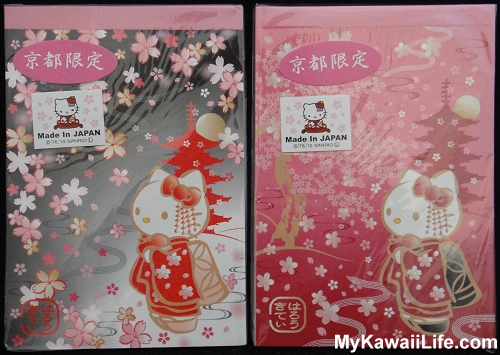 Hello Kitty Koubou is within walking distance of Ginkaku-ji (the Silver Pavilion). After leaving Ginkaku-ji, return to the start of the Philosopher's Path. Instead of turning down the path, go straight ahead, keeping the canal on your right. When you reach another canal running perpendicular to the first, turn left. Hello Kitty Koubou is a little way down this street on your left. Look out for the Hello Kitty banner and the statue at the door.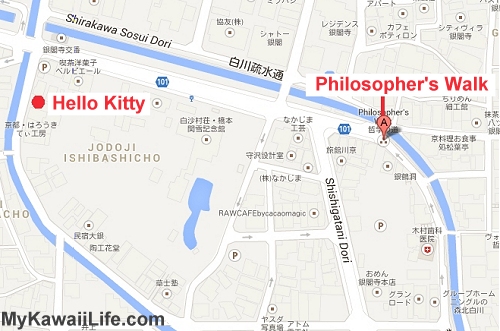 Map from Google Maps
If you are in Kyoto, please pay a visit to Hello Kitty Koubou. It is the most unique Sanrio shopping experience I have ever had in Japan and I really do think it is the cutest Hello Kitty shop in Kyoto. If you do visit, please let me know. I'd love to hear about your experiences.
And if you love this shop as much as I do, please pin these images to Pinterest.